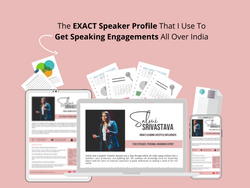 The EXACT SPEAKER PROFILE I USE TO GET SPEAKING ENGAGEMENTS ALL OVER THE COUNTRY 
As a content creator, I know that you have a lot to share with the world. You may be an expert in your area, but it is a challenge to get your word out there.
I personally speak at multiple events across the country- both online and offline. I also work with corporates for training sessions and seminars.
If you too are looking to get involved in speaking engagements, then creating a speaker profile is of utmost importance. 
So here, I am offering you the exact speaker profile that I use for acquiring and landing new speaking engagements every month! It works with TEDx events, school and college events, and even corporates.
I would suggest that you use this profile as a guideline, and design your own by taking inspiration and pointers from this one. An exact replica may not get you the desired results, because you will want your own element to show up in your profile.
Use this profile to its full advantage, and you will be surprised by the results.
HOW TO USE IT: Once you create the profile, use this as an attachment to the email conversations you have with organizers of these events. Once the organizers see your level of expertise, you are more likely to land speaking engagements faster!
# PDF Download