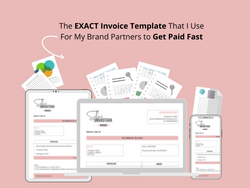 Saloni's Invoice Template
The EXACT INVOICE TEMPLATE I USE FOR MY BRAND DEALS
When you start out as a creator and don't know much about the finance side of this business, creating invoices can be a challenge.
What are the details you need to provide? What are the details that you need to ask from brands? All of these things are easy to understand when you see the exact invoice template I use for brand deals.
POINT TO NOTE: Use this as an inspiration, and create something like this from scratch on Excel.
# PDF Download