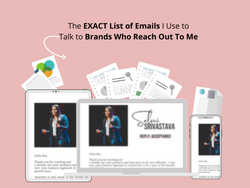 Saloni's Inbound Email Replies Template
The EXACT LIST OF EMAILS THAT I USE FOR MY CONVERSATIONS WITH BRANDS WHO APPROACH ME 
As a YouTuber, you would know that you get approached by brands on a daily basis. Some of these would be your dream brands, while others may not be the ones you'd want to work with just yet.
As a Youtuber myself, I know exactly what you go through every day. It can difficult to frame the right reply in one-go and you may waste a lot of time drafting your replies on a daily basis.
Therefore, I have created this email pack which has all kinds of replies that you would want to send to these brands.
From accepting a deal, to politely refusing it for various different reasons, this pack has you covered.
Use this pack to its full advantage and you will save a lot of your precious time every day. 
# PDF Download