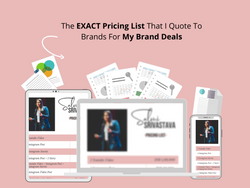 Saloni's Exact Pricing List Template
The EXACT PRICING LIST I USE FOR MY BRAND DEALS
When you start out as a creator, I am sure you would have found yourself confused about the right price to charge for your branded content.
It is somewhat of a grey area in the industry because there's no 'right' way to price your valuable offerings. To make your lives easier, I'm offering my own pricing list that I use with brands to when I choose to work with them.
This list will give you a good idea about the prices that you can ask for your content.
POINT TO NOTE: The prices mentioned here are not always fixed. I may charge more for some brands, and offer a small discount to others. But, on average, this is what my fee remains on most days.
# PDF Download