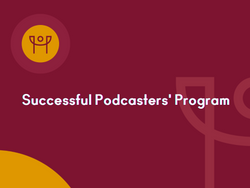 Successful Podcasters' Program
Do you spend too much time in the shower talking about all things random?

Do your friends always say 'when will you stop talking?'

Are you spontaneous and begin conversations with anyone just naturally?
If meeting individuals and learning about their journey is literally what you're found doing at all times, and you have a wide range of interests, you're a natural talent. You should start and develop your own podcast show. 
You see, your obsession with conversing in stories demands a platform that is accessible to everyone. And it's now simpler than ever to get your point through to someone who is truly interested!
Allow us to be your partners as you embark on the adventure of starting your own podcast; together, we'll help you achieve the success, connections, and notoriety you so richly deserve.
Join us today.
#NoRefunds