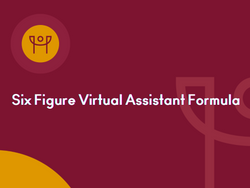 Six Figure Virtual Assistant Formula
This course is the right fit for you if you:
Want to create a career that allows you to work from any location.

Want to work with clients from all over the world

Want to earn a six-figure salary each month

Want to handle duties you genuinely enjoy

Wish to have an opportunity to learn new skills each day; 
and, most importantly, be your own boss and live your life as you see fit!
If you decide to become a virtual assistant right now, all of this is achievable for you!
Due to the surge in remote working, a virtual assistant, or VA, has become one who is in great demand. However, there aren't many experienced and talented VAs in the market to meet the demand because this is a very new sector. Here's where we come in.
Sound like something you'd love doing? Join us then!
#NoRefunds