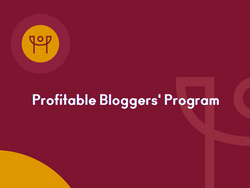 Profitable Bloggers' Program
Have you always wanted to start a blog?

Do you want to create a personal brand for yourself via a blog?

Did you know you could make a living simply by publishing enlightening blog posts online?
Presenting the 'Profitable Bloggers' Program.' 
Yes, there may be a paradigm shift in how we now approach blogging but blogs are here to stay. You see, blogging will be around forever as a way to develop a personal brand and the voice of an organization. 
This is THE course you'll ever need if you've ever wanted to learn the entire craft of blogging step-by-step! Don't worry about you'll do it. That will be handled for you by us. You only need to sign up for our programme.
#No Refunds