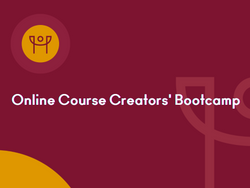 Online Course Creators' Bootcamp
The way individuals educate and learn has completely changed in the post-pandemic era. Everyone has discovered a method to study things online from people who are actual practitioners, from young children to retired folks. And as a result of this change, the online learning sector is now a multi-billion dollar business!
And if teaching has always been a passion of yours, then this is for you. Building an online course around your knowledge is no longer difficult because getting started will be made even simpler with our assistance and direction! 
Let's join together to construct AMAZING online courses that will not only enable you to achieve incredible wealth and independence but also have an impact on all the enthusiastic students who will queue up to study from you.
Join us today.
#NoRefunds